COVID-19 Level 2 Update
Our latest update from Brent Scammell Honda
–
We are still trading and continue to provide a quality service, in conjunction with the Covid-19 Level 2 policies.
The restrictions will last for three days - at this stage - and end at midnight on Friday where it will be reassessed.
As of right now level 2 means we are open but with restrictions that are found on the NZ Government Covid-19 website below.
https://covid19.govt.nz/covid-19/restrictions/alert-level-2/
We are trying our best to minimize risk of transmission to both customers and our employees so we ask that if you come in store:
- Respect the 2m social distancing in our retail stores
- Please use the Hand sanitizer that is supplied at the front door and the counter.
- Either scan our QR code at the front door or sign our contact trace register.
- We will be carrying out regular cleaning of our high contact surfaces.
If you are feeling unwell or have any symptoms please don't come to the store, give us a call 03 2367993 and we will do our best to help get you what you need.
We will keep you all updated as we move forward, Thanks once again for your help and patience through this period.
Thanks, Maria & Brent Scammell
2021 Burt Munro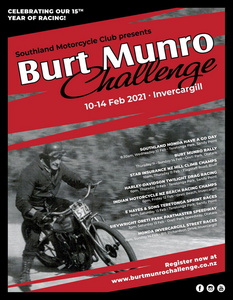 Book your leave, start that maintenance on your bike, get those odd jobs around house ticked off, and join us at the Burt!
The Challenge is back for the 15th year from 10-14 February 2021!!
Competitor and spectator passes will go live 1st October.
www.burtmunrochallenge.co.nz

CT125 Hunter Cab is coming to NZ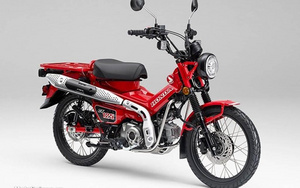 We look back to Honda's classic CT series, a model that's delivered plenty joy to people's lives for decades; Here is some more info about the legend. $6,695 Ex Gst The CT125 offers far more than what you expect.

The new CT125 is certainly CT110 inspired.

With a 125cc, 1-cyl, 4-stroke engine, electric Start, ABS, LED lighting and a digital display, the CT125 is an ode to the postie of old, for a weekend cruise or as a commuter, or like how we know it as a legend of a farm bike – its nostalgic charm is certain to turn heads anywhere it goes.

ENGINEERING

The CT125's engine output characteristics focus on versatility. Offering a powerful dynamism of the mid/low speed range;

INTAKE AND EXHAUST
The CT125 adopts its own exclusive intake and exhaust system, in which the positioning of the air cleaner and muffler has been changed from those of the other current Super Cub series models. This enables the tuning of the exhaust duct calibre and shape with a longer intake length provided, and thus ensures an articulate pulse of the vehicle and makes the throttle really easy-to-use.

BRAKES
The CT125 is equipped with disc brakes for both front and rear wheels. With the adoption of A 220mm disc for the front and 190mm for the rear, offer adequate braking power even when you've got luggage on the back. There is also front wheel anti-lock brake system (ABS) for added safety.

CHASSIS
The CT125 chassis has been designed to adapt to a broader variety of situations and a broad variety of riders. It's based on the common Super Cub chassis package, so its nimble and easily controlled but with an increased wheel base, seat height and upswept handlebar.

FRAME/SWINGARM
Thanks to the CT125s large rear carry rack, the rear frame has been extended, by ensuring that the new head pipe and its surroundings have been reinforced, as well as focusing on the improvement of stability while riding.

SUSPENSION
The CT125 provides enhanced traveling and cornering stability with the adoption of the same type of top bridge and telescopic suspension commonly used for a regular motorcycle.

WHEELS
Paint coating has been applied to the steel rims and stainless-steel spokes on both front and rear wheels.

4.95% Interest Offer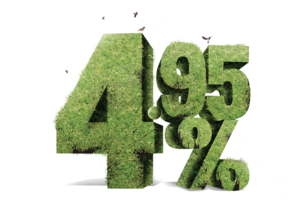 Purchase a new Honda ATV, Side by Side, or Two-wheel Farm Bike at only 4.95% Interest when you finance any of the below products for a limited time:
Click here for full terms and conditions.
COVID19 UPDATE Brent Scammell Honda

Dear Brent Scammell Honda Clients,

We are just letting you know that the government has listed us as an essential service provider.

What this means:
We have 1 parts person available to supply parts, you need to call Brent on 2367993 or 0274 338649 if no reply please leave a message on the mobile and we will process your order & have it sitting at the back door of our parts department for you to collect.
We will have 1 mechanic on call in our workshop for urgent break downs, please have your bike cleaned & we will endeavour to sort. Please book in on 027433 8649 On arrival please toot your horn at our workshop to notify our mechanic that you are here.
Please keep away from our staff & we will do our best to sort your motorcycle.
If you require a new or s/hand motorcycle to get you through please also call Brent on 0274 338649 and he will be able to work with you to get this sorted.
We look forward to getting this next month behind us; we will do our best to keep your motorcycle in working order when needed. We will adjust our staff levels where needed also.
Regards Maria & Brent Scammell
2020 Farm Jam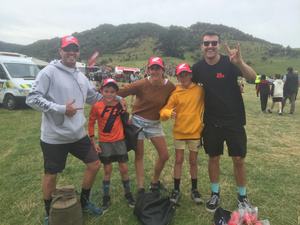 Thanks to the Rock for giving away the freebies from Brent Scammell Honda at the 2020 Farm Jam. Happy kids and families by the look of the photos!

RIDERS DEFY THE ELEMENTS AT FARM JAM 2020
The 2020 Farm Jam in New Zealand's South Island saw riders defy the elements to put on a memorable show for the 10th running of the iconic two-wheeled action sports event.
Despite high winds tearing across the southern hills, some of the world's best riders took center stage and put on a show for the 3000-strong spectators who crowded the rolling hillsides.
The gales forced the freestyle motocross contest to be cancelled, with final results taken from Friday's media-only freeride day; an afternoon where riders take to the rolling hills and judge each other on their skills and ability to adapt to a range of different features.
As a result, Californian freeride legend and X Games gold medallist Tyler Bereman came away with the win, with local teenage sensation Ben Wilson in second and fellow Kiwi Caleb De Lacy in third.
At his second appearance at the Farm Jam, Bereman was full of praise for the unique event. "This an event that's really built by riders for riders. The vibe's insane and it doesn't matter who did what, everyone had a damn good time and I can't thank the Frew family enough for their continued support of the action sports scene."
The BMX and mountain-bike contests saw a reduced number of brave riders battle the winds and throw down their best tricks on the meticulously-sculpted dirt jumps.
Cambridge's Paul Langlands was voted as having the run of the BMXers, while Canadian legend Brett Rheeder and Australian Mike Ross tied for the best mountain-bike run.
"This was my first time to the Farm Jam and I've never ridden an event like it," explained Rheeder. "It's great having a contest where it feels like you're having an awesome time with your friends and still putting it on the line for the fans. It's a one-of-a-kind event."
Considering the weather conditions, Farm Jam organizers Dan and Brett Frew were satisfied with how the day's proceedings and the willingness of the athletes to make the most of the opportunity and give the vocal spectators a great show.
"Weather-wise we've had a great run over the past 13 years. It was disappointing we couldn't showcase each sport to its full potential, but we certainly made the most of the cards we were dealt," says Brett. "The willingness for the boys to still go out and ride even in the dicey conditions was exciting and both the crowd and riders really got into it. At the end of the day, that's what the spirit of the Farm Jam is all about."
The next Farm Jam will be held in early 2022 at the same venue in Winton, New Zealand.
For more information, photos, videos, and updates follow @farm_jam on Instagram, and "Like" Southern Freeriders and Farm Jam on Facebook.

About the Farm Jam
The Farm Jam began in 2008 on the Frew brothers' 2,600-acre sheep farm in Otapiri Gorge, Southland, NZ. From its humble beginnings, it has rapidly grown into a bucket-list event for two-wheeled action-sports athletes, attracting some of the world's biggest names in BMX, FMX, and MTB. The "jam" formats see each sport judged solely by the riders, with significant emphasis placed on judging riders from other disciplines. Thousands of spectators flock to the highly-anticipated event that was held annually until 2014.

KNOW YOUR HONDA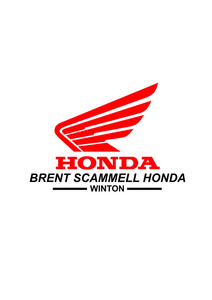 KNOW YOUR HONDA
Knowing your motorcycle and keeping it in optimal condition will not only help you ride better, it will also keep you safer and ensure your bike has a longer life. Ongoing maintenance is key and there are heaps of things you can do with minimal effort.
Your Owner's Manual should have basic guidelines for scheduled servicing of specific components which should always be adhered to. But getting into the habit of checking your bike before every ride to make sure everything is working as it should be is also a great idea.
If and when something needs attention, make sure you contact your local Honda dealer to get it sorted. Authorised Blue Wing Honda dealers are trained and educated through the Honda Academy and their technical staff use appropriate diagnostic tools to keep your Honda running and performing at its best, plus they only sell genuine Honda parts.
Here's a basic checklist our team has put together, for both pre-and-post ride checks.
Tyres - Is the air pressure and tread what they should be? Are the wheel nuts tight and rims all ok?
Brakes & Clutch - Check if they're working smoothly, and that the positioning/adjustment is how you want it
Cables & Controls - Are the throttle and control cables (i.e. brakes, clutch, engine stop, lights) operating smoothly?
Lights - Are all the lights on your bike (i.e. brake, head/tail lights, turn indicators) working as they should be?
Fuel & Oil - Have you got enough gas in the tank? Is there enough oil and has it been changed recently?
Chain - Does the chain have the proper tension and is it clean and lubricated?
Stands - Is your bike's stand operating freely and without binding? Do the springs hold them up properly when not in use?
​​​​​​​
With over 50 Honda dealerships located in key farming locations around New Zealand you can rest assured that when you own a Honda you will be able to get assistance when you need it. We at Brent Scammell Honda are always engaged with their local community and understand the unique requirements of their local region. We have trained technicians who can look after every aspect of your motorcycle servicing and maintenance. It is important that you conduct your own safety checks and equally important that your bike is serviced regularly and according to schedule. Keeping your bike maintained can be a huge contributor to your safety.
If you have any questions regarding motorcycle maintenance, please contact the Service Department at Brent Scammell Honda +64 3 2367993
Genuine People. Genuine Product. Genuine Service.
2020 CRF 250R NEW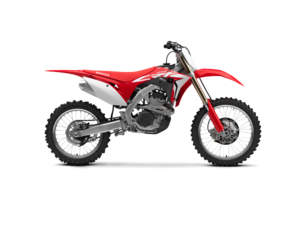 Introduction
The CRF250R gets a host of important updates for 2020, including engine enhancements aimed at bettering low-to-midrange power, and chassis revisions that improve handling. To increase torque and improve driveability, the cam profile is new, the combustion chamber is reshaped, and the exhaust resonator has been removed. At the same time, manoeuvrability has been improved through a lighter frame and swingarm with optimised flex characteristics, along with a lower battery position and internal front-and-rear suspension updates.

Upgrades
* New cam profile delays opening of exhaust valves and has reduced valve overlap, resulting in improved torque and power in the 6,000-10,000 rpm range.
* Optimised combustion-chamber shape.
*Ignition timing is optimised at 8,000 rpm for improved torque and power.
*Gear-position sensor added to allow dedicated ignition maps for each gear.
* Header-pipe resonator is removed for improved power character when shifting from second to third gear. * Muffler is revised for improved low-to-midrange torque.
* New air-filter element is 10% larger for increased airflow.
* Enlarged left-side radiator for efficient cooling with higher engine-power output.
* Second gear has revised (higher) ratio for improved drive, while second and third gears have a new WPC
surface treatment for improved durability and reduced friction.
* Clutch capacity is increased by 18%, and clutch spring has a higher rate.
* New lighter aluminium perimeter frame and aluminium swingarm are designed to achieve increased yaw-angle stiffness while retaining lateral and torsional stiffness, resulting in improved stability.
* Newly shaped footpegs are 20% lighter and shed mud more easily, giving the rider great feel and confidence in all riding conditions.
* Thanks in part to revised internal suspension settings (fork has increased lowspeed damping, while shock has increased low-speed compression and reduced high-speed compression), handling has been improved in the following areas: stability, tracking, turning and traction.
* Battery repositioned 28mm lower to drop centre of gravity for better handling.
* Rear brake has a shorter hose and longer, lighter pedal, as well as a new pad material with improved power and better durability in muddy conditions. Lowerrear brake guard removed for reduced unsprung weight and improved cooling.

Chassis
* Low centre of gravity reduces front-end lift for strong acceleration performance.
* Lightweight and compact 6.3 Litre titanium tank keeps weight to a minimum.
* Lightweight front-brake caliper uses pistons of different diameters (30mm and 27mm) for strong braking performance.
* Front brake hose resists expansion for precise braking.
* Renthal® Fatbar® reduces weight of the steering system, and flexes for optimal comfort.
* Top triple clamp features two handlebar-holder locations for moving the handlebar rearward and forward by 26mm, ensuring rider comfort. When holder is turned 180 degrees, the handlebar can be moved an additional 10mm from the base position, resulting in four total unique riding positions.
* Black rims deliver a strong presence on and off the track.
* Smooth bodywork layout eases rider movement.
* In-mold graphics are durable and resistant to peeling caused by washing or abrasion.
* Geomax MX3S tires, exclusively available through Honda, for superior bump absorption and grip in wide variety of conditions.

Engine
* High-performance, DOHC, 249cc single-cylinder engine with dual-overhead-cam design and high rev limit, offering great performance.
* Finger rocker arms with Diamond Like Coating (DLC) maximise valve lift while retaining a low engine height. * Downdraft intake layout produces strong power and enables great throttle response by reducing resistance, thereby improving air-charging efficiency.
* 44mm throttle body provides ideal low-rpm intake airflow for strong corner-exit performance.
* Piston oil jet uses five nozzle holes for efficient piston-cooling and minimised knocking, enabling a precise ignition-timing setting for optimum power delivery.
* Electric-start standard for easy, fast engine startup.
* Easily selectable Standard, Smooth, and Aggressive riding modes enable simple tuning depending on rider preference or course conditions.
* Selectable HRC launch control provides a steady stream of torque for excellent performance on race starts.