Announcing Jack Symon to the BSH race team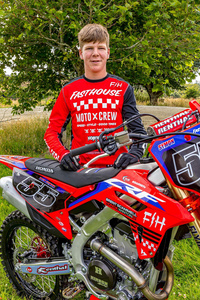 Brent Scammell Honda is introducing Jack Symon 17 years old to our Honda race team.

His Mum and Dad bought Jack's first Motorbike (LT50) when he was 20 months, he learnt left and right, and quickly had good balance, and at the age of 4 attended his first race meeting, and he was hooked.
Jack is one of the highest-ranking motocross riders in the South Island at present. He competes at a National Level throughout the country traveling to the lengths of the North & South Islands and usually finishing on the podium.

Jack will be riding the new 2022 Honda CRF 250R with support from Brent Scammell Honda, Fasthouse, Bell Helmets, Alpinestar, 100%, Pirelli, Feaver Roofing, Hawthorne Wools, LJ Contracting, Dr. Trim, and Redline Oils.

Will look forward to bringing you Jack's results and race stories.

Are you ready for the NEW SEASON?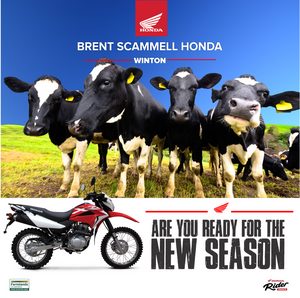 We have the all equipment to keep you going this season. From side by sides, quads, and two-wheelers to pumps, generators, and the full Honda Power Range. See us in store for all your New Season requirements, at Brent Scammell Honda Winton

CANCELLED EVENT / 2022 Motocross Series

25 January 2022
To our Motorcycling Members,

Upon discussion with the General Manager/Interim Motocross Commissioner, Hosting Clubs and a number of Service & Hospitality providers, the decision was made last night (Monday 24 January) to cancel the 2022 New Zealand Motocross Series.

MNZ representatives have held conversations, at length with many parties involved in this Series and while considerable difficulties were being experienced and spoken of by all parties leading up to the proposed event dates, the latest national shift to the Red Zone Traffic Light System and the extra regulations that come with this, have now made many areas of delivery for these events untenable.

These are unprecedented times we are all facing and trying to navigate our way through. The decision(s) we are making are unfortunate and we can assure you we feel the disappointment as many of our membership will also do.

MNZ wish to take this opportunity to acknowledge all parties that have been involved from planning/logistics, hosting, service providers, sponsors to riders, and the support and understanding shown by so many of you is always appreciated.

MNZ now plan to review our respective Motorcycling Series and begin early planning for what we envisage as being a great series in 2023.

Kind regards – Ride Safe



Motorcycle Mechanic/Technician Position Available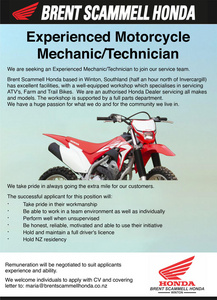 We are seeking an Experienced Mechanic/Technician to join our service team.

Brent Scammell Honda based in Winton, Southland (half an hour north of Invercargill) has excellent facilities, with a well-equipped workshop that specialises in servicing ATV's, Farm, and Trail Bikes. We are an authorised Honda Dealer servicing all makes and models. The workshop is supported by a full parts department. We have a huge passion for what we do and for the community we live in.

We take pride in always going the extra mile for our customers.

The successful applicant for this position will:
Take pride in their workmanship
Be able to work in a team environment as well as individually
Perform well when unsupervised
Be honest, reliable, motivated, and able to use their initiative
Hold and maintain a full driver's licence
Hold NZ residency
Remuneration will be negotiated to suit applicant's experience and ability.
We welcome individuals to apply with CV and covering letter to:
maria@brentscammellhonda.co.nz
Applications OPEN until suitable applicant found
New Zealand Motocross Nationals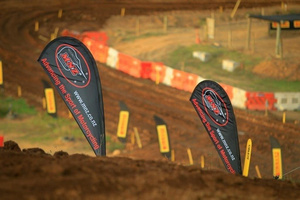 17 November 2021
The MNZ Board has approved the following dates for the four [4] rounds of the 2022 NZ Motocross Championships.

Round One will now be held on Saturday 12th February 2022. This consideration has been made due to the host club requesting this date fitting in to their calendar of events more effectively, and for MNZ to ensure there are no conflicts with motorcycle sport event dates, as often as possible.

The calendar now appears as below:
NZMX Round 1: Saturday 12th February [South Otago Motorcycle Club]
NZMX Round 2: Sunday 20th February [Rotorua Motorcycle Club]
NZMX Round 3: Sunday 20th March [Hawkes Bay Motorcycle Club]
NZMX Round 4: Sunday 27th March [Taupo Motorcycle Club]

Confirmed Classes and Entries to follow

HONDA Kids Mini Trail Demo Day

Brent Scammell Honda presents the
HONDA Kids Mini Trail Demo Day
Thursday 11 November 2021
4 – 8 pm Venue The Sandpit, Pit Road Oreti Beach
BBQ & Refreshments, ALL WELCOME
A limited number of new bikes for Christmas so get in quick
Bring along your Protective Gear and Helmets to Demo New Models
ANZAC Hours 2021
We remember those who fought for our freedom
Brent Scammell Honda - will be CLOSED Saturday 24th and Monday 26th April
Normal hours resume Tuesday 27th April
GENERAL NOTICE – Event Closure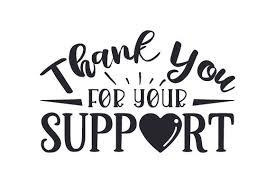 We are sending this out to inform you all that we will no longer be running the Oreti Super-X. We have had 9 successful years running this event. Due to the year, we have all had in 2020 with COVID -19 it is disappointing that we aren't able to make it 10 years.
We are sending this out to inform you all that we will no longer be running the Oreti Super-X. We have had 9 successful years running this event. Due to the year, we have all had in 2020 with COVID -19 it is disappointing that we aren't able to make it 10 years.
We thank you all for your support over this time. Without the sponsors, volunteers, community groups, and all the people giving their time and energy we wouldn't have been able to run such a successful event each year.
From - THE WORLD'S MOST SOUTHERN SUPER-X COMMITTEE
Jim, Sarndra, Brent, and Maria.