In store Now! NEW CRF 250F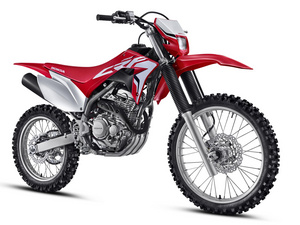 Introduction
Increased displacement, more power and better stability enhance the confidence-inspiring nature of the all-new flagship of the CRF Recreational Line and bring performance gains that also make this a great platform for advanced riders. The CRF250F brings an all-new 250cc four-valve engine with Keihin electronic fuel injection for increased power. Its tubular steel frame brings improved handling—a benefit that will be appreciated by all riders. More torque and a linear power delivery mean new riders can learn at lower, less intimidating rpm, and advanced off-roaders can utilize the strong torque in technical sections. The smooth low-end power blends seamlessly into a stronger midrange and top end, and the increase in torque at all rpm results in fewer shifts so that riders can focus more on trail challenges. The mass-centralisation philosophy of the CRF is carried over to this trail model, with the muffler positioned closer to the centre of mass. The result is a lighter feel, intuitive responsiveness, and confidence-inspiring handling, especially on corner entrances. The Pro-Link® rear suspension system puts the smooth power to the ground, and the Showa 41mm fork works with the new frame's steering geometry to provide maximum front-wheel traction. Braking is handled with new petal-style rotors for improved modulation, heat transfer and mud clearing, and the CRF Performance Line-inspired aggressive, compact bodywork allows improved rider/machine interface. Hot or cold, stored in the garage or stopped on the bad line up a challenging hill, the CRF250F's EFI and electric starter fire up the engine with the touch of a button, and there are no carburettor circuits to clog with fuel residue if the bike sits for extended periods. The new, 6 Litre fuel tank enables good range and is protected between the frame spars in the event of a fall, and the integrated fuel pump includes a low-fuel sensor with a handlebarmounted indicator. Add it all up, and the all-new CRF250F is more bike, for more riders.
Updates
 All-new 250cc overhead-cam engine.
 All-new Keihin electronically controlled fuel injection systems delivers more linear power and easy start-up whether bike has been sitting or is hot on the trail.
 All-new tubular steel frame for a stable, nimble chassis.
 CRF Performance Line philosophy of mass centralization applied to vehicle packaging.
 New 41mm fork, plus Pro-Link rear-suspension system with single shock.
 Front and rear hydraulic brakes with petal-style rotors for improved heat dissipation.
 Handlebar-mounted low-fuel and "key on" indicator lights.
 CRF Performance Line-inspired muffler with compact positioning.
 CRF Performance Line-inspired bodywork and graphics.
Engine
 The 250cc SOHC engine returns with smoother, more linear power delivery.
 Five -speed gearbox is well matched to the broad power spread.
 Electric starter makes getting going a breeze
Styling and Chassis
 833mm seat height.
 Wheel sizes of 21 and 18 inches front and rear, respectively.
 The 41mm fork provides plush front-suspension action.
 Pro-Link® rear-suspension design with sophisticated single shock for consistent action.
 Smooth stopping power provided by front and rear hydraulic brakes, with 240mm and 220mm rotors, respectively.
 Front brake lever is adjustable to work with varying hand sizes.
 Styling follows that of the race-winning CRF Performance Line. Performance Line
MNZ is excited to announce two confirmed dates for the 2019 NZ Supercross Championship.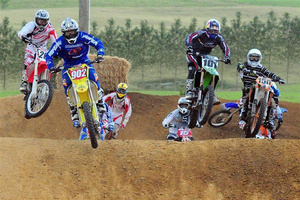 Round 1 - Winton - Saturday 9th November
Round 2 - Tokoroa - Saturday 23rd November
There is potential for further involvement of the SX Open on Saturday 16th November however this is yet to be confirmed.
We challenge our riders and their teams/manufacturers to get out and support these events to make NZ Supercross great again!
Motorcycle Part Position Available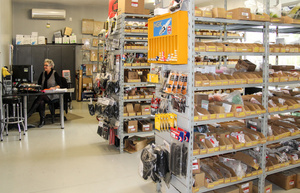 • Join our busy team in Winton
• Opportunity to start your career in the Motorcycle Industry
• Opportunity to learn and progress
• Fantastic working environment
• Monday to Friday 8 am to 5.30 pm
Brent Scammell Honda is a recognised name in the Motorcycle industry for quality, expertise and knowledge representing Honda. We have experienced significant growth in recent years and would like to add someone to our team who is keen to learn and start their career in the motorcycle world.
As a Motorcycle Parts Specialist you will be delivering exceptional customer service over the counter and via phone. You will need good computer skills for data and diagrams to identify the correct part for your customer. You will be dealing with experienced automotive trades people such as mechanics; therefore you will need strong communication skills along with an understanding of motor cycles and their various workings.
Some of your day to day duties
• Providing friendly and accurate advice, predominately on hard part queries
• Processing trade sales & organising delivery
• Answering phone queries, and offering technical advice to ensure the right parts are received
• Ordering and processing inwards & outwards freight
• Ordering and selling top brand accessories
• Stock inventory control & maintenance
A passion for everything motorcycling is key, with no previous industry experience required
We are very keen to teach someone this role from the ground up.
A motorcycle parts apprenticeship is available for the right person.
Customer service is a key part of this role and you will build and maintain strong relationships with our valued customers.
We offer a great opportunity to utilise and grow your skills and knowledge in a positive, fast paced environment. Start your journey with Brent Scammell Honda by applying for this great job today and get your Motorcycle career off to a great start.
Should you wish to join an exciting industry, please apply in writing with a cover letter and CV. Applications close 31 March 2019 maria@brentscammellhonda.co.nz
Applicants for this position should have NZ residency or a valid NZ work visa.
NZ Super-X Championships Winton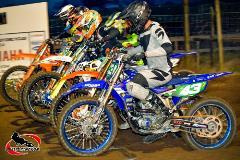 CAPTION: Rangiora's Korban Paget (Yamaha, closest to camera), currently sitting top of the junior 250cc class. Photo by Andy McGechan, BikesportNZ.com
DECEMBER 12, 2018: There's no denying the supercross talent of riders such as Ben Townley, Josiah Natzke, Carlin Hedley and Korban Paget.
These were the riders who produced unbeaten performances at a damp round one of the New Zealand Supercross Championships at Tokoroa a fortnight ago and the question now is can they repeat those performances at the second and final round near Invercargill this Saturday (December 15)?
Four of the five championship classes were dominated by just one rider at the Tokoroa circuit, although there is plenty that might still happen during the final races at Winton this Saturday.
Oropi's Townley (SX1, open class), Mount Maunganui's Natzke (SX2, 250cc), Ohaupo's Hedley (SX Lites, 125cc) and Rangiora's Paget (Junior 250) each recorded a hat-trick of wins in their respective classes at Tokoroa, while, in the remaining championship class, the Junior Lites, Hamilton bothers Nicholas and Dylan Westgate ended up sharing the top spot.
Nicholas Westgate finished with a 1-1-7 score-card at Tokoroa, while his sibling rival Dylan Westgate scored 2-3-2 results, Nicholas eventually getting the nod as overall winner thanks to the count-back rule.
Each of these riders know there's plenty still to be done before the championships wrap up at Winton on Saturday, except for Hedley, who learned this week that he has already been crowned champion of the SX Lites class.
With insufficient entries for this class at Winton, the class has been dropped from the programme for this weekend and the result has been declared.
Meanwhile, Townley has indicated that he may not be racing at Winton this weekend, perhaps leaving the way clear for the runner-up rider in the SX1 class, Taupo's Cohen Chase, to take advantage.
However, Nelson's Reece Walker is also well-positioned, just two points behind Chase.
Motueka's Josh Coppins is tipped to make his first appearance in the series on Saturday and that may upset a few points calculations too.
Former factory Grand Prix motocross star Coppins won the SX2 class in the supercross nationals last season, jumping in at the last minute to replace an injured Maximus Purvis, but this year Coppins will be racing in the SX1 class.
Saturday's event at Winton at the VetSouth Super-X Track in Ryan Road, is billed as "the world's southern-most supercross". It is always an extremely popular venue and sure to draw a large crowd.
The Tokoroa event was supported by Craig Stevens Yamaha and the Winton event, hosted by the Southland Motorcycle Club, will be supported by Brent Scammell Honda.
Credit: Words and photo by Andy McGechan, www.BikesportNZ.com
Tell us and WIN $5,000
Tell us and WIN $5000 (worth of Travel Vouchers)
SIMPLY visit www.tellhonda.co.nz and enter the unique code BRE001 to get started

At Honda it is very important to us that your opinions are heard. So tell us about your experience in-store at Brent Scammell Honda and go into our six monthly draw to be in to win.

The prize and survey is sponsored by Blue Wing Honda - visit survey website for full terms and conditions.
Now suppliers off - MOBILE WARMING Products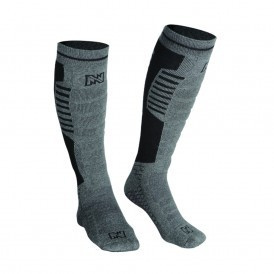 MOBILE WARMING ..... See Maria or Brent in store today at Brent Scammell Honda now stockist of the Mobile Warming Range of clothing and accessories great for Winter Riding or keeping warm at the kids sports or even at work.
The Mobile Warming Thawdaddy is designed as a universal fit, heated vest to keep you warm and comfortable when the weather turns cold. The Thawdaddy provides instant heat for any outdoor activity, whether for work or play. The Thawdaddy vest is an underlay to your everyday jacket, or you can use it as an overlay to your shirt. It's ultra-thin design easily stows away when not in use, but when it's cold out, the powerful lithium-ion batteries provide up to 9 hours of heat. Retail $169.00
Stay warm for hours with the Mobile Warming Heated Socks. These are the perfect blend of performance materials, comfort, and industry-leading heating technology to ensure cold feet are a distant memory. Use the included wireless controller to keep your feet warm and comfortable in frigid conditions. Retail $139.99

See instore at Brent Scammell Honda for more products ....
FREE Honda dollars $$$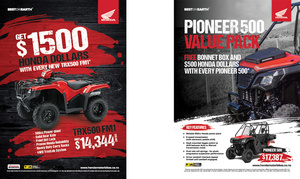 Value Pack on new Honda's, talk to Brent today for these great deals .....
TRX 500 FM1 - Get $1500 Honda dollars with every new TRX500 FM1
Pioneer 500 - Get $500 Honda dollars and a FREE Bonnet Box with every Pioneer 500
Promotions will run until 30th June 2018
Troy Lee Designs MX Range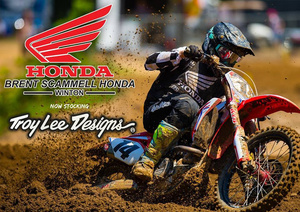 Brent Scammell Honda are excited to now be suppliers of the new Troy Lee Designs MX Range.
See us instore, we are happy to kit you out, in the best gear available