Sandpit MX Series Round 3 Final Invercargill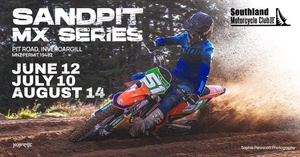 3 Round Series - June 12th / July 10th / August 14th
Keep it fun and easy, manual lap scoring, and enter on the day!
Things to note….
Enter on the day
Sign In 8-9 am (bring your helmet & MNZ log book filled in)
Free one event licence available for first-round ONLY (will be $30 to purchase following rounds)
$30 entry fee pp/per class
$ 5-day club membership (for those that don't belong to an MNZ club)
Racing from 10 am
Manual lap scoring 3rd round of racing for series points
Bikes MUST have front & side numbers (NO numbers means no points)
Classes - Vets, Senior 450, Senior 250, Junior 250, Junior 125, Junior 85, Intro, 50cc, 65cc, Trail (Classes may be Split/Combined at the discretion of officials, based on entry numbers received on the day)
Hot food and coffee are available
Fabtech 2022 NZ Motocross TT Nationals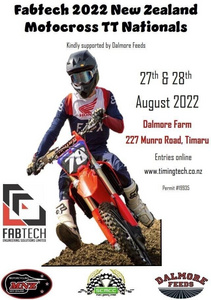 Dalmore Farm - 227 Munro Road, Timaru
Entries online www.timingtech.co.nz
Permit #19935

2022 Junior Championship - Taranaki Motorcycle Club
11 May 2022
After a tough start to the year with many events being postponed or cancelled we are pleased to announce that the New Zealand Junior Championship will be going ahead for 2022. With the recent changes from the government around alert levels, it has made it a lot easier for clubs to host large events like this and to get the support of all riders from across the country.
We are all pleased to announce that Taranaki Motorcycle Club has taken on this challenge and confirmed that they will host this event, October 7,8,9. We are looking forward to supporting the club and seeing what a fantastic event it will be for 2022.
More information to follow including entry forms and supplementary regulations.
2023 Junior Champs will be hosted by Southland Motorcycle Club - dates tbc
Regards
Lindsey Heileson
MX Commissioner
Lake to Sea Trail Ride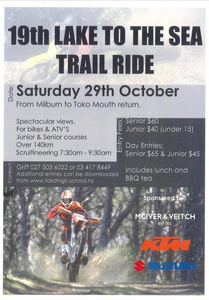 From Milburn to Toko Mouth return
Spectacular views - Over 140 km
For bikes & ATV's / Junior & Senior courses
Scrutineering 7.30 - 9.30 am
Pre Enter - Senior $60 Junior $40 (under15)
Day Entries Senior $65 & Junior $45
Includes lunch and BBQ tea
Inquiries Griff 027 503 6022 or 03 417 8449
Entries can be downloaded from www.tokohigh.school.nz

More Events …