Danseys Pass Trail Ride

Get ready for the 2018 Danseys Pass Trail Ride!
Saturday March 24th 2018
Please note: We are currently creating a new website which will allow for online registration. We will publish this as soon as it's available.
Danseys Pass Trail Ride is the longest one day trail ride in both New Zealand and Australia! With over 140km of tracks through private high country farms, braided rivers, forestry, native gorge and rolling farmland in the stunning Waitaki Valley.
The tracks are completely redesigned each and every year, creating a unique, varied and challenging day out for riders of all ages and experience.
Our tracks include: Family, Intermediate, Advanced A, Advanced B and Extreme. No two rides are ever the same!
Many of our riders return year after year!
Since it's conception in 1999, the annual Danseys Pass Trail Ride has had well over 20,000 riders take on the challenge. The money raised from this event directly benefits the children of Duntroon School with effects filtering out to the wider community.
Ride Info:
Location:
The Basecamp for the Danseys Pass Trail Ride is located on Bushy Creek Road, 9km from Duntroon, via the Livingstone – Duntroon Road.
Signs clearly mark the basecamp from both Duntroon and Tokarahi from 6.30am on the 24th.
Price:
Online registration
Adults $65 including lunch
Adults $55 No lunch
Junior $20 including lunch
Junior $10 No lunch
Prices on the day
Adults $65
Junior $20
Cash BBQ available throughout the day
Start Time:
Registration: 8am
Scrutineering: 8.30am
First tracks open: 9am
Tracks close at approximately 3pm depending on the conditions on the day.
We have a very strict maximum number of 1500 riders.
With the increased interest of our new date, we strongly recommend that you complete the online registration (when available) to ensure you can join us on the day.
Hot food will be available from 8.30am onwards. BBQ will be
available throughout the day.
Juniors are 15 years and under. Proof of age may be required at sign in.
Adults are 16 years and over.
Are ATV's or Side by Side's permitted?
ATV's are welcome on the Family Loop. ATV's are not permitted on the Advanced and Extreme Loops.
NO SIDE BY SIDE's are permitted on any loops.
2018 Southland MX Champs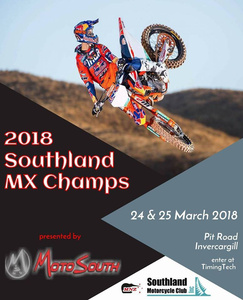 Hosted by Southland Motorcycle Club
Venue Pit Road Invercargill
Enter at Timing Tech
Southern Dirt Bike Riders - Dirt Drags
Tussock Creek
South Island Secondary School Champs
Hosted by Gore & Districts Motorcycle Club
Dale's Property, 809 Mandeville-Kingston Crossing Road, Riversdale
Southern Dirt Bike Riders - Club Day Rd 4
Round 4 Keen Road, Hedgehope
Wanaka Trail Ride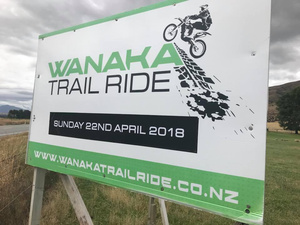 With online registration proving to be so successful in 2017, they will be continuing with this system in 2018. You will be able to PRE-REGISTER ONLINE from Monday 12th March!!
www.wanakatrailride.org
With the ride becoming increasingly popular over the last few years, we will be capping the number to 1000 registrations. So make sure you put this date in your diary so you don't miss out on this amazing experience!

The unique event offers an all-abilities trail bike ride over Deep Creek, Long Gully & Lindis Peak Stations, giving riders the rare opportunity to explore private high country farmland while taking in views over the Southern Lakes and Central Otago districts.
Southern Dirt Bike Riders - Club Day Rd 5
Round 5 - Venue TBC
Southern Dirt Bike Riders - Club Day Rd 6
Venue TBC
More Events …