Honda CRF 110F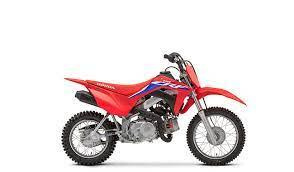 For 2019, the CRF110F features a brand new Keihin electronic fuel-injection system that's tuned for linear power delivery and precise throttle response.
The new CRF110F carries over its four-speed, clutch-less transmission for takeoffs and shifting that quickly become comfortable for every rider. An additional 12mm of rear-suspension travel and a 5mm increase in seat-foam thickness (without increasing overall seat height) mean improved comfort whether sitting or standing.
In true Honda style, the CRF110F delivers legendary build quality and reliability, so the bike dependably fires up every time the starter button is pressed and does not stop until the tank runs dry—and when that moment is looming, the FI system provides a low-fuel warning light.
A big benefit for the young rider's "factory mechanic" is that the fuel-injection system eliminates the possibility of carburettor jets clogging with fuel residue if the motorcycle sits for an extended period—and reduced maintenance means more family time on the trail or track.
Looking for more?