In store Now! NEW CRF 250F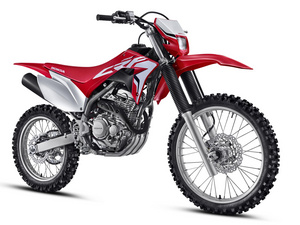 Introduction
Increased displacement, more power and better stability enhance the confidence-inspiring nature of the all-new flagship of the CRF Recreational Line and bring performance gains that also make this a great platform for advanced riders. The CRF250F brings an all-new 250cc four-valve engine with Keihin electronic fuel injection for increased power. Its tubular steel frame brings improved handling—a benefit that will be appreciated by all riders. More torque and a linear power delivery mean new riders can learn at lower, less intimidating rpm, and advanced off-roaders can utilize the strong torque in technical sections. The smooth low-end power blends seamlessly into a stronger midrange and top end, and the increase in torque at all rpm results in fewer shifts so that riders can focus more on trail challenges. The mass-centralisation philosophy of the CRF is carried over to this trail model, with the muffler positioned closer to the centre of mass. The result is a lighter feel, intuitive responsiveness, and confidence-inspiring handling, especially on corner entrances. The Pro-Link® rear suspension system puts the smooth power to the ground, and the Showa 41mm fork works with the new frame's steering geometry to provide maximum front-wheel traction. Braking is handled with new petal-style rotors for improved modulation, heat transfer and mud clearing, and the CRF Performance Line-inspired aggressive, compact bodywork allows improved rider/machine interface. Hot or cold, stored in the garage or stopped on the bad line up a challenging hill, the CRF250F's EFI and electric starter fire up the engine with the touch of a button, and there are no carburettor circuits to clog with fuel residue if the bike sits for extended periods. The new, 6 Litre fuel tank enables good range and is protected between the frame spars in the event of a fall, and the integrated fuel pump includes a low-fuel sensor with a handlebarmounted indicator. Add it all up, and the all-new CRF250F is more bike, for more riders.
Updates
 All-new 250cc overhead-cam engine.
 All-new Keihin electronically controlled fuel injection systems delivers more linear power and easy start-up whether bike has been sitting or is hot on the trail.
 All-new tubular steel frame for a stable, nimble chassis.
 CRF Performance Line philosophy of mass centralization applied to vehicle packaging.
 New 41mm fork, plus Pro-Link rear-suspension system with single shock.
 Front and rear hydraulic brakes with petal-style rotors for improved heat dissipation.
 Handlebar-mounted low-fuel and "key on" indicator lights.
 CRF Performance Line-inspired muffler with compact positioning.
 CRF Performance Line-inspired bodywork and graphics.
Engine
 The 250cc SOHC engine returns with smoother, more linear power delivery.
 Five -speed gearbox is well matched to the broad power spread.
 Electric starter makes getting going a breeze
Styling and Chassis
 833mm seat height.
 Wheel sizes of 21 and 18 inches front and rear, respectively.
 The 41mm fork provides plush front-suspension action.
 Pro-Link® rear-suspension design with sophisticated single shock for consistent action.
 Smooth stopping power provided by front and rear hydraulic brakes, with 240mm and 220mm rotors, respectively.
 Front brake lever is adjustable to work with varying hand sizes.
 Styling follows that of the race-winning CRF Performance Line. Performance Line