CT125 Hunter Cab is coming to NZ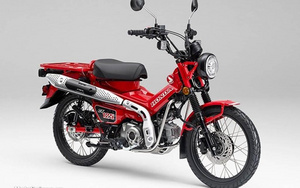 We look back to Honda's classic CT series, a model that's delivered plenty joy to people's lives for decades; Here is some more info about the legend. $6,695 Ex Gst The CT125 offers far more than what you expect.
The new CT125 is certainly CT110 inspired.
With a 125cc, 1-cyl, 4-stroke engine, electric Start, ABS, LED lighting and a digital display, the CT125 is an ode to the postie of old, for a weekend cruise or as a commuter, or like how we know it as a legend of a farm bike – its nostalgic charm is certain to turn heads anywhere it goes.
ENGINEERING
The CT125's engine output characteristics focus on versatility. Offering a powerful dynamism of the mid/low speed range;
INTAKE AND EXHAUST
The CT125 adopts its own exclusive intake and exhaust system, in which the positioning of the air cleaner and muffler has been changed from those of the other current Super Cub series models. This enables the tuning of the exhaust duct calibre and shape with a longer intake length provided, and thus ensures an articulate pulse of the vehicle and makes the throttle really easy-to-use.
BRAKES
The CT125 is equipped with disc brakes for both front and rear wheels. With the adoption of A 220mm disc for the front and 190mm for the rear, offer adequate braking power even when you've got luggage on the back. There is also front wheel anti-lock brake system (ABS) for added safety.
CHASSIS
The CT125 chassis has been designed to adapt to a broader variety of situations and a broad variety of riders. It's based on the common Super Cub chassis package, so its nimble and easily controlled but with an increased wheel base, seat height and upswept handlebar.
FRAME/SWINGARM
Thanks to the CT125s large rear carry rack, the rear frame has been extended, by ensuring that the new head pipe and its surroundings have been reinforced, as well as focusing on the improvement of stability while riding.
SUSPENSION
The CT125 provides enhanced traveling and cornering stability with the adoption of the same type of top bridge and telescopic suspension commonly used for a regular motorcycle.
WHEELS
Paint coating has been applied to the steel rims and stainless-steel spokes on both front and rear wheels.