Announcing Jack Symon to the BSH race team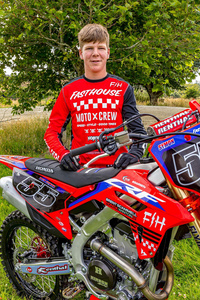 Brent Scammell Honda is introducing Jack Symon 17 years old to our Honda race team.

His Mum and Dad bought Jack's first Motorbike (LT50) when he was 20 months, he learnt left and right, and quickly had good balance, and at the age of 4 attended his first race meeting, and he was hooked.
Jack is one of the highest-ranking motocross riders in the South Island at present. He competes at a National Level throughout the country traveling to the lengths of the North & South Islands and usually finishing on the podium.

Jack will be riding the new 2022 Honda CRF 250R with support from Brent Scammell Honda, Fasthouse, Bell Helmets, Alpinestar, 100%, Pirelli, Feaver Roofing, Hawthorne Wools, LJ Contracting, Dr. Trim, and Redline Oils.

Will look forward to bringing you Jack's results and race stories.