Te Anau Basin Trail Ride
Venue - Te Anau Down Station, Southland
Host - Te Anau Basin Trail Ride
King of the Bowl - Rnd 3 & 4 (& Series entry)
Hosted by: Canterbury Mini MX Club – Permit # TBA
WHERE & WHEN – 4 Round Series for 2022
Round 3 – Saturday 26th February 2022
Round 4 – Sunday 27th February 2022
Club Track, 114 Deans Road, Darfield
Map to track
Entry form & supp regs – not yet released
2022 Southland Cross Country Series - Rd 2 Te Anau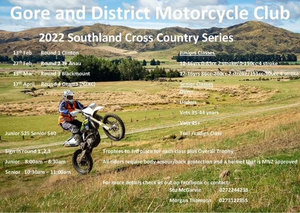 Hosted by Gore & District Motorcycle Club
13th Feb Round 1 Clinton
27th Feb Round 2 Te Anau
13th March Round 3 Blackmount
17th April Round 4 Otama (NZXC)
Junior $25 Senior $40
For more details check them out on Facebook or contact - Stu McGarvie 0272244238 or Morgan Thomson 027 3122855
Milton Gutbuster & Family Trail Ride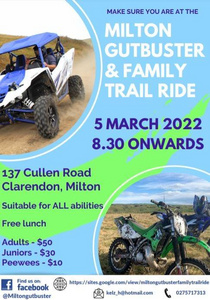 Sign in 8.30 onwards
137 Callen Road, Clarendon, Milton
Suitable for all abilities
Free Lunch
Adults $50 - Junior $30 - Peewees $10
The Five Forks Foothills Trail Ride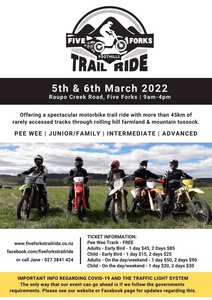 9 am - 4 pm Daily
Where - Raupo Creek Road, Five Forks, North Otago
www.fiveforkstrailride.co.nz or call Jane 027 3841 424

IMPORTANT INFORMATION REGARDING COVID-19 AND THE TRAFFIC LIGHT SYSTEM
The only way our event can go ahead is if we follow the government's requirements as per the Traffic Light System.
This means that vaccine passes will be required for all attendees that are over 12 years + 3 months.
As the situation could change between now and early March we will continue to monitor and make changes as we need to.
Please check back on here, and our Facebook page for any updates as and when they happen.
Garston School Trail Ride
Venue - Garston, Southland
Host - Garston School
TT Series - Round 1
TT Series 2022 – Hosted by Christchurch Off-Road Motorcycle Club
Venue – Track access 343 Inwoods Road, Southbridge
Round 1 – Sunday 6th March 2021 (Permit #TBA)
Round 2 – Saturday 19th March (Permit #TBA)
Round 3 – Sunday 20th March (Permit #TBA)
Blackmount Trail Ride
Venue - Blackmount, Southland
Host - Hauroko Valley Home & School
More Events …