Burt Munro's 50th Anniversary Beach Race / Postponed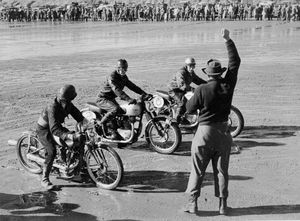 The 26th August, 2017 marks 50 years since Burt Munro completed his record breaking run at the Bonneville Salts in Utah. He set an under 1000cc class record of 295.453 km/h (183.59 mph) among others and in 2006 he was inducted into the AMA Motorcycle Hall of Fame. The Southland Motorcycle Club are holding special beach races on the 26th August 2017 at Oreti Beach to celebrate Burt Munro's record breaking achievements.
Time: 9am - 12pm
Date: 26 August 2017
Where: Oreti Beach
More information and entry forms will be available soon on the Southland Motorcycle Club (SMCC) website.